רב -מג 2 מטאטא משופר, מסדרת רב-מגב
במלאי
רב -מג 2 מטאטא משופר, מסדרת רב-מגב
₪75.00
Order in The Next

to get it by

June 9, 2020

חסר עוד

₪

139.99 כדי לקבל משלוח חינם

תשלום מהיר באמצעות כ״א
מפרט
חומר

100% גומי טבעי

אופן הרכבת מקל למוצר

ואקום

מקל

4 חלקי המקל עשויים אלומיניום אל חלד מחוזק אורך המקל 140 ס''מ

משקל

750 גרם

עמידות

כימיקלים, וחומרי חיטוי

מספר שורות הזיפים

6 שורות

זיפים אלכסוניים

זיפים אלכסוניים לניקוי קל לאורך פנלים, קירות ורהיטים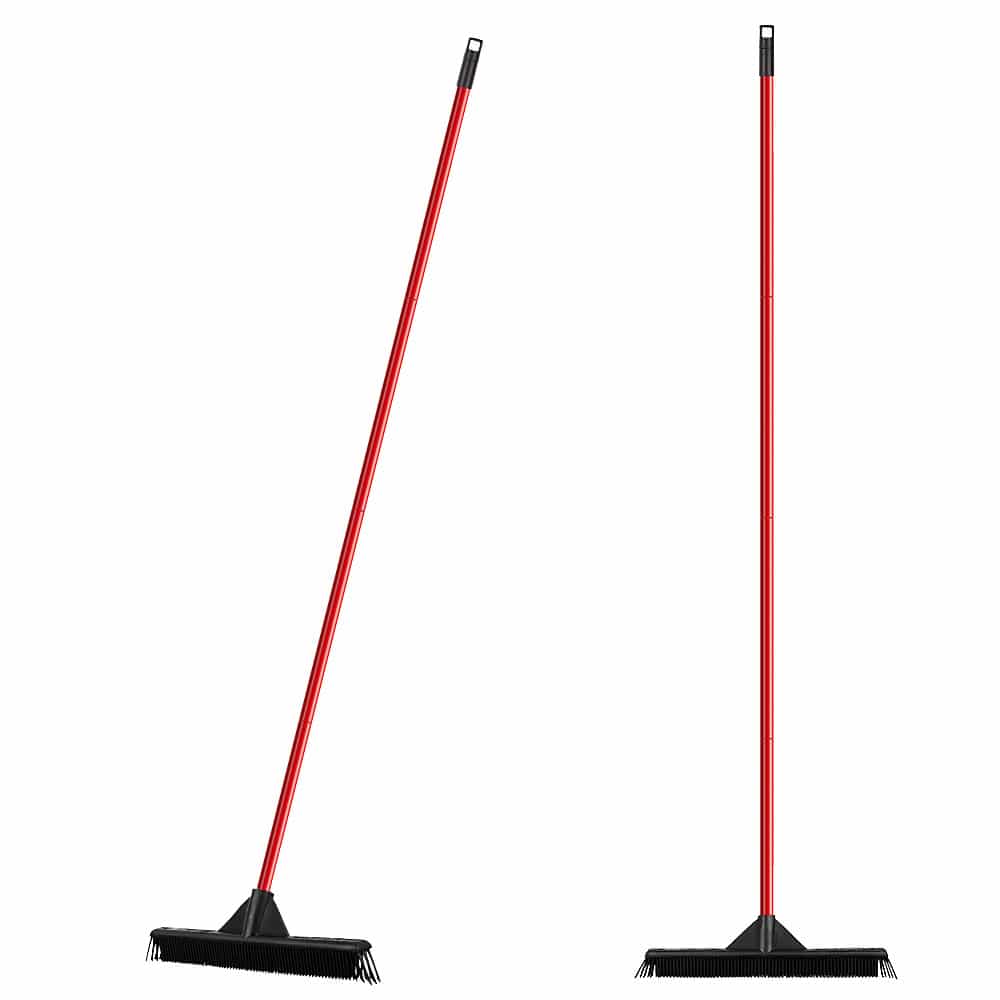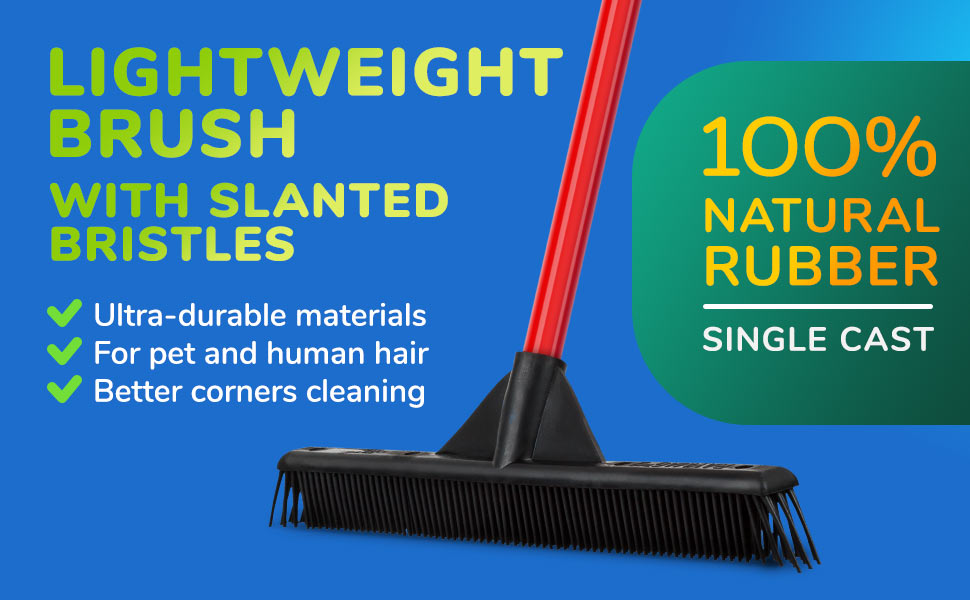 Tyroler's rubber broom will get your floors cleaner than ever with less time and less effort to do it. It provides you with 2 effective cleaning tools in one user-friendly design and features heavy-duty extra-long stick for hard-to-reach areas. It can be used outdoors to clean your deck, patio and indoors to clean your tiles And hardwood floors. It's rubber bristles will clean sand, pet fur, hair and fine particles from your carpet and floors.
The #1 tool for hair salons, pet grooms, professional cleaners and housekeepers.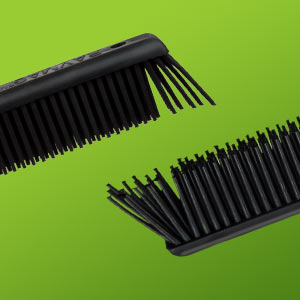 High-quality rubber broom with slanted side bristles:
Revolutionary Bristles manufactured from a single cast of high-quality rubber, this premium Rubber Broom has a collection of uniquely designed bristles which provides amazing cleaning and dirt removal benefits. The slanted side bristles design, makes the broom perfect for cleaning along walls and furniture.
The texture of the bristles helps to build static charge which makes it easier for the bristles to suck up dust, pet fur, human hair and other low weight dirt from all solid surfaces, easily and conveniently.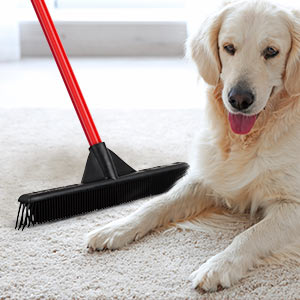 This will become a pet-owners best friend
More than just for hard flooring, the rubber broom acts as a carpet rake for sweeping area rugs, runners, carpeted stairs and more. The rubber design interlocks its bristles to form a solid wall that even tiny pieces of dirt can't slip through.It not only picks up loose dirt, but it is also able to pull amazing amounts of hair and fur that The vacuum cleaner leaves behind like pet hair, human hair, sewing threads and so on. By using short strokes, you build up a static charge that not only lifts dirt and hair out of the carpet, but it keeps it from flying through the air as well.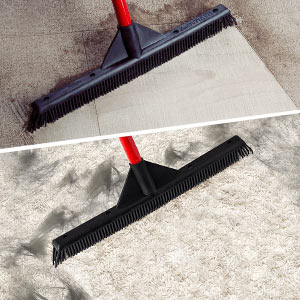 This broom has an extremely lightweight build which makes it easy to hold and much easier to use for prolonged cleaning sessions. Unlike other brooms, this high-quality broom features a unique design, which includes an extra-long handle with rubber bristles that can be used to remove hair, lint, dust, and dirt from clothing, upholstery, and carpets. Its long handle also allows users to conveniently clean ceilings, roofs and other hard-to-reach areas conveniently.
CARPET PET HAIR REMOVER: The bristles have advanced cleaning technology that works to lift dust, dirt lint and hair. Use it to quickly remove pet hair from high traffic areas and where your dog or cat like to sleep.
MULTI-PURPOSE SQUEEGEE: Finish you cleaning session by using the squeegee tool for moving water Toward a drain or off your deck for a no-mess solution to cutting dirt and grime in and around your home. Squeegee can be used for windows, showers, car windshield and more.

תיאור
עשוי יציקה אחת של גומי 100%  טבעי, בעל 6 שכבות זיפים, מתאים במיוחד לטאטוא מתחת לריהוט ובאזורים הסמוכים לו. רוחבו 42 ס"מ, הזיפים הצדיים שלו נטויים כלפי חוץ כדי לאפשר ניקוי מושלם לאורך הקירות.
הרב מג 2 שימושי לכל סוגי הרצפות ומתאים גם בניקוי שטיחים. ההרכב הייחודי של הגומי יוצר חשמל סטטי שמדביק למטאטא לכלוך, אבק, שיער וחלקיקי לכלוך קלים נוספים שאינם ניתנים לניקוי אפילו בעזרת שואב אבק.
הגומי הרך אינו פוגע בריהוט יקר ועדין, עם זאת הוא מנקה באופן אפקטיבי את משטחי ההליכה הגסים בגינה וגם את הרצפות החלקות של חדרי הבית.
לאחר השימוש, ניתן לשטוף בקלות את מטאטא הרב מג, כדי לשמור על מראהו האסתטי. המטאטא אינו מתבלה, אינו נשחק ואינו מאבד את צורתו ותכונותיו.
שנתיים אחריות
רב -מג 2 מטאטא משופר, מסדרת רב-מגב
₪75.00
הוסף לסל
הרשמו לניוזלייטר שלנו וקבלו עדכונים והנחות מיוחדת ישירות למייל
This website uses cookies to improve your experience. We'll assume you're ok with this, but you can opt-out if you wish. Cookie settingsACCEPT
Privacy Overview
This website uses cookies to improve your experience while you navigate through the website. Out of these cookies, the cookies that are categorized as necessary are stored on your browser as they are essential for the working of basic functionalities of the website. We also use third-party cookies that help us analyze and understand how you use this website. These cookies will be stored in your browser only with your consent. You also have the option to opt-out of these cookies. But opting out of some of these cookies may have an effect on your browsing experience.
Necessary cookies are absolutely essential for the website to function properly. This category only includes cookies that ensures basic functionalities and security features of the website. These cookies do not store any personal information.
Any cookies that may not be particularly necessary for the website to function and is used specifically to collect user personal data via analytics, ads, other embedded contents are termed as non-necessary cookies. It is mandatory to procure user consent prior to running these cookies on your website.