רב-מג, מטאטא גומי מסדרת רב-מגב
מבצע!
במלאי
רב-מג, מטאטא גומי מסדרת רב-מגב
₪75.00
עשוי יציקה אחת של גומי 100% טבעי, רוחבו 33 ס"מ, בעל 9 שכבות זיפים. בעל מגב מובנה.  
זיפי הגומי הטבעי הרכים מתאימים לניקוי של כל סוג משטח עדין בבית ואינם שורטים אפילו משטחי ריהוט. הזיפים קשיחים במידה הדרושה כדי לנקות ביעילות שבילי הליכה מחוץ לבית בלי להתבלות או לאבד את צורתם.
מטאטא הרב מג הוא כלי מעולה לקרצוף רטוב, מכיוון שהוא עשוי ממקשה אחת של גומי טבעי. בצדו האחד הוא מטאטא, ובצדו האחר הוא מגב. לאחר קרצוף של רצפה רטובה, כל שעליך לעשות הוא להפוך אותו לצדו השני ולנגב את עודף המים בעזרת המגב המובנה.
הרב מג הוא הפתרון המושלם לניקוי שטיחים. הגומי המיוחד שלו יוצר מטען חשמלי-סטטי שמדביק מוך, שיער וחלקיקי לכלוך קלילים נוספים למטאטא הרב מג. בזכות תכונה זו הוא מנקה שטיחים במהירות וביעילות שאפילו שואב אבק אינו מגיע אליהן!
לאחר השימוש, ניתן לשטוף ולייבש אותו בקלות ולהביאו למצב נקי וחדש למראה.
לא מתבלה ואינו משנה את צורתו.
שנתיים אחריות
OUR COMMITMENT TO YOU
We hope you are delighted with your order from tyrolerltd.com. If for any reason you are not satisfied with your product, please contact us within 30 days of receipt and we will be happy to process a refund. All returns must be in their original packaging, unused and returned with all of the original packaging
Order Cancellation
Cancellation of Transaction and Return of Products Any purchaser of a product on this website may cancel the transaction in accordance with the provisions of the Consumer Protection Law, 5741-1981 (hereinafter: "the Law" in Israel).
The purchaser is obliged to check the product immediately upon receipt. A product purchased on the Site may be canceled by means of a written notice to the Company stating its full name and ID number (hereinafter: the "Cancellation Notice"), including by fax and email, from the date of making the transaction and up to 14 days from receipt of the product In writing, containing the terms of the transaction, including the description and price of the product, warranty, cancellation policy, etc., whichever is later, as follows, all in accordance with the provisions of the law: In canceling a transaction due to a defect or non-conformity in the product, That part of the transaction price paid, will cancel the charge due to the transaction, give a copy of the debit cancellation notice and will not charge the customer any amount Stayed.
Return of the product to the Company shall be done by the Company in accordance with the provisions of the Law.
In canceling a transaction that is not due to a defect or incompatibility in the product, the Company will return the part of the transaction price paid, if paid, within 14 days from the date of receipt of the cancellation notice, if it is paid, cancel the charge due to the transaction, without derogating from the other rights of the Company in accordance with the provisions of the Law.
The user must return the product within 30 days from the date of canceling the transaction with an original invoice.
The return cost applies to the purchaser and will be paid by him as long as the product is returned by courier from the company.
Contact Us
If you have any questions about this Agreement, please contact us.
מפרט
חומר

100% גומי טבעי

אופן הרכבת מקל למוצר

ואקום

מקל

4 חלקי המקל עשויים אלומיניום אל חלד מחוזק אורך המקל 140 ס''מ

משקל

800 גרם

עמידות

כימיקלים וחומרי חיטוי

מספר שורות הזיפים

9 שורות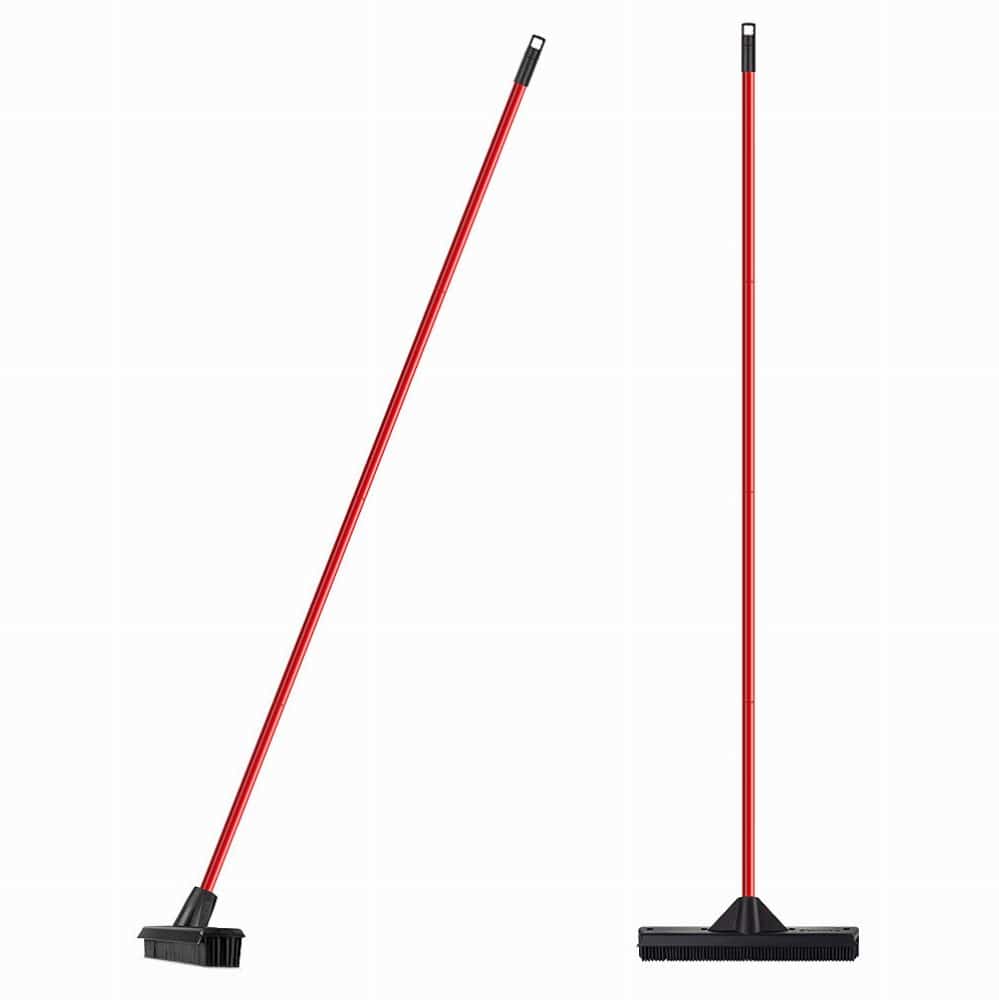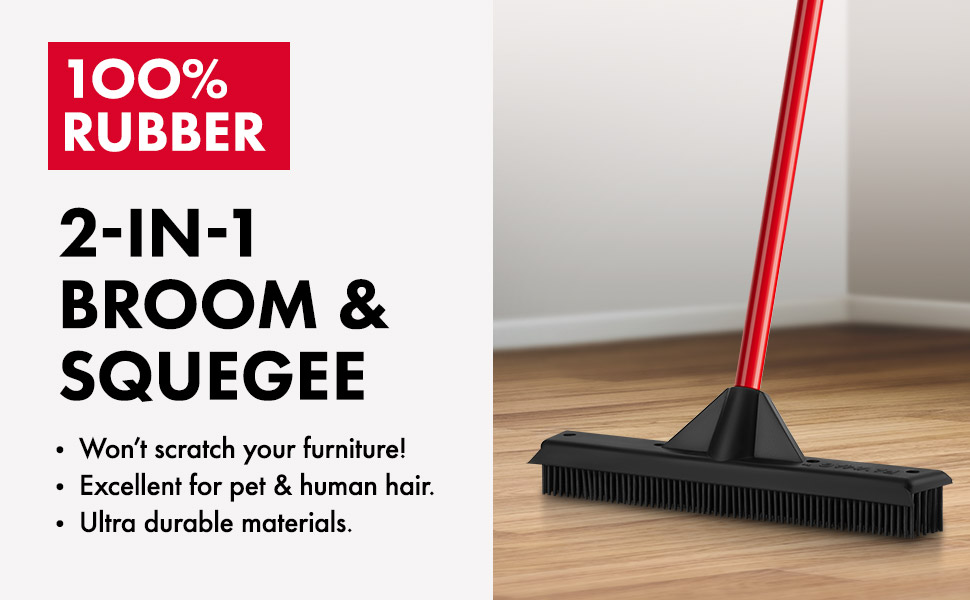 Tyroler's rubber broom will get your floors cleaner than ever with less time and less effort to do it. It provides you with 2 effective cleaning tools in one user-Friendly design and features heavy-duty extra-long stick for hard-to-reach areas. It can be used outdoors to clean your deck, patio and indoors to clean your tiles And hardwood floors. Its rubber bristles will clean sand, pet fur, hair and fine particles from your carpet and floors. The squeegee is nice for drying floors, Cleaning spills or doing windows.
The #1 tool for hair salons, pet grooms, professional cleaners and housekeepers.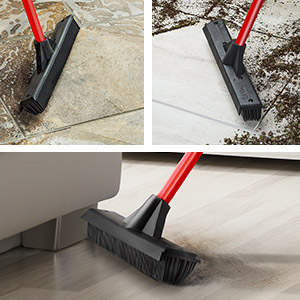 Versatile Clean your tiles, hardwood, deck, patio and even carpeting with ease. This multipurpose broom serves as a Broom, floor brush, and squeegee. The included squeegee on the back side is nice for dying floors, cleaning spills or doing windows. Can be used with soap and water for scrubbing floors, washing boats, RV's and Vehicles etc.
Safe for use on all surfaces
The soft natural rubber bristles are suitable for cleaning any delicate surface in the home, they will never scratch furniture. They are tough enough to clean effectively rough walkways outdoors without wear or loss of shape. It is also an excellent wet scrubber, because it is made of one piece of natural rubber. It's a rubber broom on one side and a squeegee on the other side. While scrubbing with water any floor, just flip it over and remove excess water with its internal squeegee.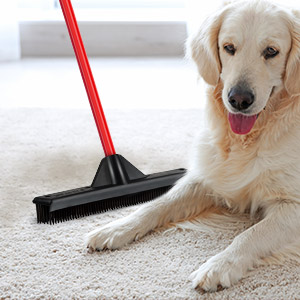 This will become a pet-owners best friend
More than just for hard flooring, the rubber broom acts as a carpet rake for sweeping area rugs, runners, carpeted stairs and more. The rubber design interlocks it's bristles to form a solid wall that even tiny pieces of dirt can't slip through. It not only picks up lose dirt, it is able to pull amazing amounts of hair and fur that that The vacuum cleaner leaves behind like pet hair, human hair, sewing threads and so on. By using short strokes, you build up a static charge that not only lifts dirt and hair out of the carpet, but it keeps it from flying Through the air as well.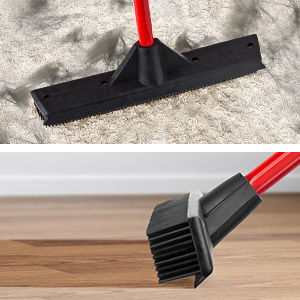 CARPET PET HAIR REMOVER: The bristles have advanced cleaning technology that works to lift dust, dirt lint and hair. use it to quickly remove pet hair from high traffic areas and where your dog or cat like to sleep.
MULTI-PURPOSE SQUEEGEE: Finish you cleaning session by using the squeegee tool for moving water toward a drain or off your deck for a no-mess solution to cutting dirt and grime in and around your home. Squeegee can be used for windows, showers, car windshield and more.
100% Premium Rubber
The solid wall of sweeping rubber will remove all dirt in a single pass, and the static charge will help to pull the dirt along was well as keep things like fur and hair from flying away. This makes your job easier because it will take less sweeping to get the job done in the first place. After use, it can be washed easily and dries quickly. It will look beautiful and clean like new.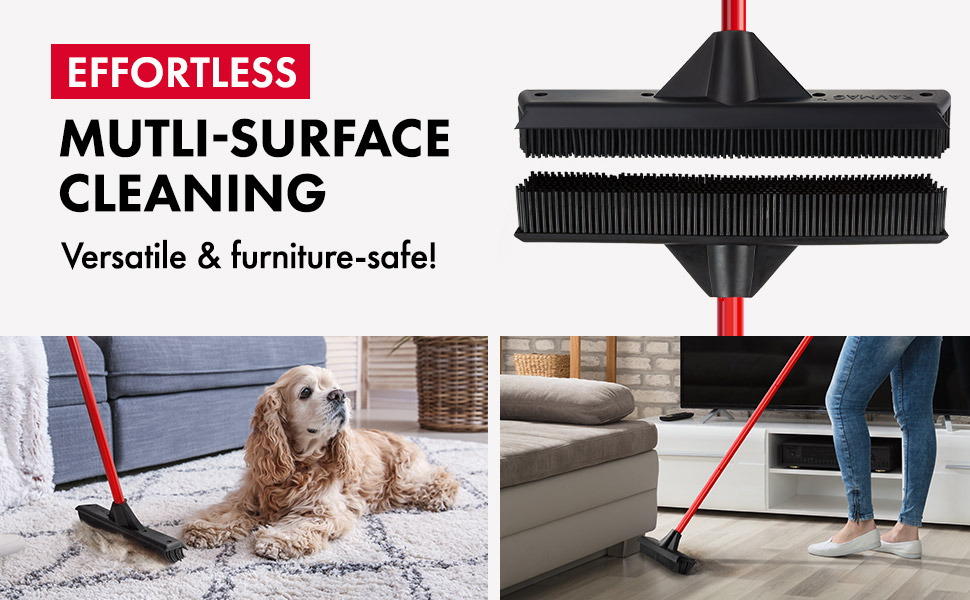 תיאור
עשוי יציקה אחת של גומי 100% טבעי, רוחבו 33 ס"מ, בעל 9 שכבות זיפים. בעל מגב מובנה.  
זיפי הגומי הטבעי הרכים מתאימים לניקוי של כל סוג משטח עדין בבית ואינם שורטים אפילו משטחי ריהוט. הזיפים קשיחים במידה הדרושה כדי לנקות ביעילות שבילי הליכה מחוץ לבית בלי להתבלות או לאבד את צורתם.
מטאטא הרב מג הוא כלי מעולה לקרצוף רטוב, מכיוון שהוא עשוי ממקשה אחת של גומי טבעי. בצדו האחד הוא מטאטא, ובצדו האחר הוא מגב. לאחר קרצוף של רצפה רטובה, כל שעליך לעשות הוא להפוך אותו לצדו השני ולנגב את עודף המים בעזרת המגב המובנה.
הרב מג הוא הפתרון המושלם לניקוי שטיחים. הגומי המיוחד שלו יוצר מטען חשמלי-סטטי שמדביק מוך, שיער וחלקיקי לכלוך קלילים נוספים למטאטא הרב מג. בזכות תכונה זו הוא מנקה שטיחים במהירות וביעילות שאפילו שואב אבק אינו מגיע אליהן!
לאחר השימוש, ניתן לשטוף ולייבש אותו בקלות ולהביאו למצב נקי וחדש למראה.
לא מתבלה ואינו משנה את צורתו.
שנתיים אחריות
רב-מג, מטאטא גומי מסדרת רב-מגב
₪75.00
הוסף לסל
הרשמו לניוזלייטר שלנו וקבלו עדכונים והנחות מיוחדת ישירות למייל
This website uses cookies to improve your experience. We'll assume you're ok with this, but you can opt-out if you wish. Cookie settingsACCEPT
אתר זה משתמש בעוגיות על מנת לשפר את חווית הגלישה, אנחנו מניחים שאת/ה מסכים/ה לכך, ניתן לשנות את ההגדרות דרך Cookie settingsACCEPT
Privacy Overview
This website uses cookies to improve your experience while you navigate through the website. Out of these cookies, the cookies that are categorized as necessary are stored on your browser as they are essential for the working of basic functionalities of the website. We also use third-party cookies that help us analyze and understand how you use this website. These cookies will be stored in your browser only with your consent. You also have the option to opt-out of these cookies. But opting out of some of these cookies may have an effect on your browsing experience.
Necessary cookies are absolutely essential for the website to function properly. This category only includes cookies that ensures basic functionalities and security features of the website. These cookies do not store any personal information.
Any cookies that may not be particularly necessary for the website to function and is used specifically to collect user personal data via analytics, ads, other embedded contents are termed as non-necessary cookies. It is mandatory to procure user consent prior to running these cookies on your website.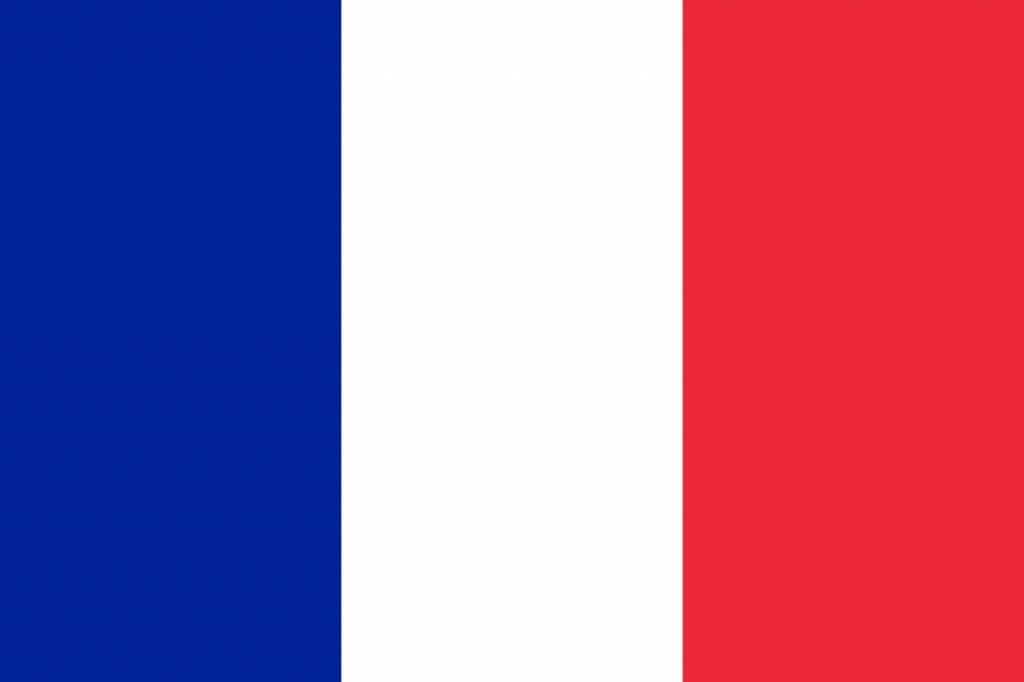 Yes! we ship our cleaning tools to France.Tyroler delivers the best cleaning tools to France with Express Door to Door shipping in 1-5 days.
We are clearing in 
USD
 only.
Proceed to checkout to see the price in 
USD